Is Socialsalerep Legit – In this social sales rep review you will get complete information to get an online job. Social Sale Rep is a website that claims to teach individuals how to generate a substantial income online by sharing informational products on social networking sites such as Facebook, Twitter, and YouTube. The website promises to provide everything needed to get started and suggests that users can earn a full-time income as remote workers.
However, it is important to determine whether Social Sale Rep is a legitimate opportunity or a scam. In this review, we will take a closer look at Social Sale Rep to uncover the truth behind its claims and whether it is possible to make money through this platform.
If you are considering Social Sale Rep and want to know if it is a valid opportunity or a potential fraudulent scheme, this review will provide valuable insights. It is important to explore alternative options if Social Sale Rep does not align with your personal preferences for earning income online.
What is Social Sale Rep?
Social Sale Rep is a unique platform that combines live chat training with an extensive jobs database. It claims to offer the opportunity to earn a substantial income ranging from $25 to $35 per hour by engaging with social media.
However, it is crucial to understand the true offerings of Social Sale Rep and dispel any misconceptions. Contrary to initial assumptions, Social Sale Rep does not directly connect job seekers with high-paying positions like a job placement agency.
Is Social Sale Rep a Scam?
It is a more nuanced platform that encompasses two main components: live chat training and an extensive jobs database.
While it does provide the opportunity to earn between $25 and $35 per hour, the positions available require an application process similar to traditional jobs. This means submitting resumes, cover letters, and potentially participating in interviews. It is important to note that despite its name, "social sale rep," Social Sale Rep's primary focus is not solely on social media. Its main emphasis lies in the role of a live chat assistant, providing support to customers rather than driving sales.
The training provided does not cover strategies for earning through social media or general sales techniques. Individuals using Social Sale Rep have the potential to earn $25 per hour by participating in conversations, addressing comments, and engaging with individuals across various social media channels, including Facebook.
The platform primarily focuses on live chat support and assisting customers with their inquiries. By the end of this review, you will have a comprehensive understanding of Social Sale Rep and alternative options to consider if this platform does not align with your preferences for earning income online.
Securing a Job with Social Sale Rep
By becoming a member of Social Sale Rep, you gain access to a well-organized job database where you can filter results based on skill level. This saves you time and effort compared to searching multiple sites individually for job openings. The membership package includes a comprehensive database with a variety of businesses actively seeking assistance.
Additionally, the membership provides guidance on using social media to increase brand visibility and generate online income. It's important to note that Social Sale Rep doesn't guarantee immediate employment.
Instead, they equip you with the skills and resources needed to secure lucrative remote opportunities. The platform combines live chat training with an extensive job database, setting you up for success in online work. If you're willing to put in the effort to apply for positions and utilize the training provided, Social Sale Rep can be a valuable tool on your path to remote employment success.
Cost of Social Sale Rep:
Regarding the cost, Social Sale Rep offers a 3-day trial for $1. After the trial period, there is a monthly subscription fee of $47 unless you cancel your membership. While there are optional upsells available, they are not mandatory.
You can still benefit from the core program without purchasing these additional offers. As you progress through the program, you can also acquire additional products like PaidOnlineWritingJobs or WriteAppReviews for $57 each.
Unlike programs that offer free entry to explore online job opportunities, Social Sale Rep does come with a fee. This fee covers the inclusion of supplementary tools, resources, and advanced technology that are not easily found elsewhere. The upkeep and maintenance of these features require financial support, hence the recurring fee. Once you're inside the member's area, you have the option to upgrade to a VIP Lifetime Membership for $97.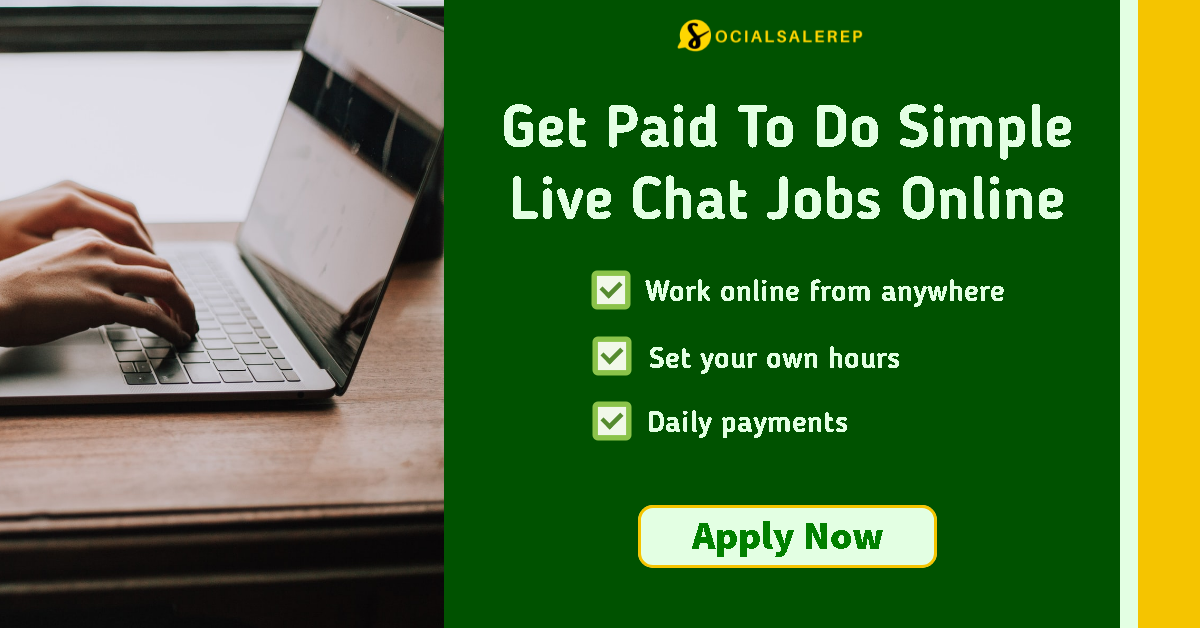 Earning with Social Sale Rep
Another way to utilize the resources within Social Sale Rep is through their affiliate marketing training. This training helps you choose a niche market and provides an eBook with your unique affiliate links, which serves as your primary promotional tool. When individuals purchase products through your affiliate links, you earn a commission based on a percentage of each successful sale.
Social Sale Rep also offers its own affiliate offers, where product creators can upload promotional eBooks for their products, which are then endorsed by "social sale representatives."
Also Read: ySense Review
How Does Social Sale Rep Work?
The working mechanism of Social Sale Rep explained The Social Sale Rep program is primarily a training course for affiliate marketing, focusing on leveraging social networking platforms for promotion rather than traditional methods like blogging or email lists.
Now, you might be wondering, what exactly is affiliate marketing?
In simple terms, affiliate marketing involves promoting products from various companies online and earning commissions for generating sales. Numerous websites offer affiliate programs, including major players like Amazon. Let's say you become an Amazon affiliate. You will receive a unique tracking link for each product, which you can share online. If someone clicks on your link and makes a purchase, you will earn a commission.
Interestingly, the Social Sale Rep website also features its own in-house affiliate offers. Product creators can sign up and list their products on the platform for the "social sale representatives" to promote. Here's how it works:
1. Sign up as a remote worker on Social Sale Rep and gain access to training on social media promotion.
2. Explore the Social Sale Rep marketplace, select the products you want to promote, and obtain the rebranded promotional eBook.
3. Promote the eBook on social media platforms with the goal of driving downloads. The eBook contains your affiliate links for the promoted product. If someone reading the eBook clicks on your links and makes a purchase, you will receive a commission.
Is SocialSaleRep Legitimate?
While it may not be accurate to label Social Sale Rep as a scam since it does offer training that could potentially lead to earnings, it is important to note that the likelihood of actually seeing profits is quite slim. In my opinion, the program is highly misleading and overly hyped, which means that if you do decide to invest in it, you will likely be disappointed with the results as your expectations will be set unrealistically high.
Considering this, I cannot recommend the Social Sale Rep website as there are much better and proven ways to begin your online journey that will yield actual results.
However, the silver lining is that the product is sold through ClickBank, so if you do purchase it and are dissatisfied, you have a good chance of getting a refund by contacting ClickBank directly. That concludes my personal thoughts on this program. If you have any further questions or comments, please feel free to leave them below, and I will respond as soon as possible.
What's Next?
Choosing to participate in Social Sale Rep not only provides an opportunity to work remotely, but also grants access to a community of social media influencers and digital marketers.
Within this community, you can connect with like-minded individuals who share your passion for social media marketing. This community not only serves as a support system, but also offers potential collaborations and opportunities for mutual growth. Learning from others, sharing experiences, and exploring potential partnerships can greatly enhance your journey to earning online.
The platform offers comprehensive training, opportunities for promoting products, and a platform to build a professional network.