Inbox dollars Scam or Legit – InboxDollars is a survey portal that offers its members to earn regular income while completing simple survey jobs and tasks. If you're looking for easy ways to earn some extra cash online then InboxDollars is the best solution for you that pay you directly to your bank account on a daily basis. Inboxdollars is a legitimate survey site that being for a long time. You easily make some extra money by completing simple tasks such as completing paid surveys, visiting other survey sites, making purchases with retail partners and browsing websites.
To be clear and make you understand, InboxDollars is not a scam scam. It gets positive feedback with an A+ rating from the Better Business Bureau for more than a decade. Remember, it's not a get-rich-quick scheme. However, it's very potential to make some extra money online and the best way to get discounts on online purchases you would make. However, not a replacement for your daily day job. But you can surely make some extra income at least $30 – $40 if you sign up with the legitimate survey jobs sites.
In this page, you will find all about InboxDollars Review that covers what is InboxDollars, who can join with, Pros and Cons of InboxDollars and how to use Inboxdollars Surveys for Money.
What is InboxDollars?
InboxDollars was founded in 2K that provided nominal cash payments. Typically, a few cents per email to its members who open and read its sponsored emails (Paid emails) who all are partnered with InboxDollars.
Paid emails was a great success and started attracting many retail partners and thousands of email recipients and today it's a successful survey job site on the internet.
The company was recently acquired by Prodege which is the top market research company. InboxDollars has paid over $63 million in cash rewards to its members. It has members from all around the world.
Now, it has grown and offers many simple tasks to its members to make regular income. The survey tasks available on InboxDollars survey site are,
InboxDollars surveys
There are many ways to earn money from Inboxdollars Survey Program.
Electronic Coupons and Payments for using them.
Free and discounted online game play.
Payments for viewing ad videos.
Cash-back and exclusive discount offers from retail partners
When you request for your first InboxDollars payment, you will receive Gold Membership. Inbox Dollar's "gold Membership" confers additional benefits such as incentives and faster payment for some activities. Inboxdollars competes with some of the legit survey site such as Swagbucks, Survey Junkie, PanelPlace, ySense and Zoombucks. These are the best survey sites that offer cash payments for completing simple online tasks.
Inboxdollars Sign up is free and the best part is, you get a $5 as sign-up bonus as soon as you activate your InboxDollars account.
What Does InboxDollars Offer?
There are several ways for users to earn cash with InboxDollars. These include:
Taking surveys
Shopping online
Watching videos
Reading Paid Emails
Playing games
Using Inbox Dollars' search engine
Participating in scratch-offs
Trying offers
Now you have a query that how does this all work? And how much can you expect to earn from Inbox Dollars. Let's take a closer look at how InboxDollars works and how to make money out of it.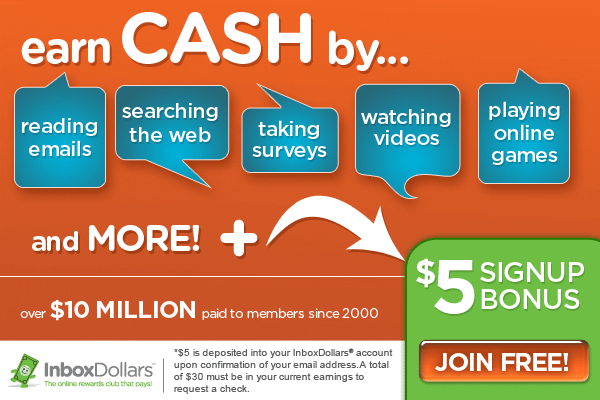 How InboxDollars Works
Sign up for InboxDollars is a straightforward process. As you need to provide basic information like contact details, current location, create username and password. Once you have created and activated your account with Inboxdollars, $5 will be paid to your bank account directly.
Once you have confirmed your account verification through email, you are good to login and browse the opportunities in this site. You will find a lots of survey jobs, discounts and all other income opportunities to start make money from InboxDollars.
Once you start work on the online tasks, your InboxDollars income will be accounted for in your dashboard. Once you have earned at least $30, you can request a payment. Non-Gold members typically take at least 3 weeks to get the payment and the Gold members will get the payment within a week.
How InboxDollars works is, the company is a middleman between the consumers (like you) and brands (companies).
InboxDollars $5 Signup Bonus
InboxDollars gives you in with $5 signup bonus or a "free $5 to get started." To sign up with Inboxdollars, all you have to do is provide your email address, create a password, and then confirm your email address and you get $5. Sign up now.
I'm the living example that I provided my email address and after confirming my account, I got $5 credited to my account. Awesome!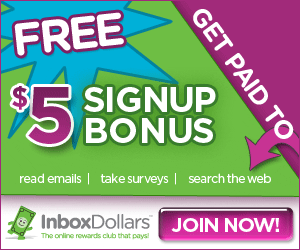 How To Make Money with InboxDollars
The brands and companies pay to get your feedback and opinions about products and services. This will help them to improve their offering and help to make money.
When you sign up for InboxDollars then you will become a member and eligible to share your opinion and feedback of the products or services. In return, you will make money. Remember, you will get $5 once you have activated your InboxDollars member account.
Below are the popular online tasks on InboxDollars to make money:
1. Paid Surveys
Inbox Dollars' favourite online task is, make money by completing surveys. They cost somewhere between $0.50 and $5.00. The longer survey will pay you better. We have seen there is a survey for $20. However, it's rare, but they are still available.
2. Shop Online for Cash-back
If you shop through InboxDollars site then you will get access to various deals and discounts coupons and free samples.
3. Read Paid Emails
One of the easiest ways to make money from InboxDollars is, paid email. All you need to do is simply read the emails you received in your inbox. You will earn commission after clicking on the confirmation links. You may receive up to 3 paid emails per day.
4. Watch Videos
There are many brands that would like you to watch the video advertisements. In return, you will get a small commission.
5. Play Games and Earn Money
Another easiest and fun way to earn money on InboxDollars is, earn money by playing games online on InboxDollars. There are many popular online games available such as Monkey Bubble Shooter, Candy Jam, Mahjong Solitaire, Bubble Shooter, etc.
6. Referrals
You will earn a cash bonus for referring a new member to join InboxDollars using your referral link.
How to Sign up for InboxDollars
InboxDollars is 100% legit and free to join. To get started on InboxDollars, here is the sign up link.
This link offers you a $5 as welcome bonus after you confirm your registration to complete your InboxDollars survey registration profile.
Inboxdollars Scam or Legit
The straight answer is Inbox Dollar is a 100% Legit and safe website to make money. Inboxdollars company is accredited by the BBB and holds an A+ rating.
On Trust-pilot, Inbox dollars have a 4.2/5 rating from well over 9,000 reviews. Also InboxDollars survey app is well-rated for both Android devices and iOS.
Pros of InboxDollars
You earn real cash (Not points)
Offer a $5 sign-up bonus
Multiple ways to earn rewards
Legit discount offers and coupons
Legitimate survey site to make money
Cons of Inbox Dollars
High minimum payout threshold
$3 processing fee for redemption
You may not qualify for some surveys.
InboxDollars Advantages
InboxDollars' top advantages include that you are going to earn real cash not points. An automatic sign up bonus $5, and several ways to earn money online.
Earn Real Cash
InboxDollars offers real ways to earn real cash: online survey jobs, reading Paid Emails, redeeming promo codes and coupons, paid surveys, conducting targeted searches, viewing advertorial videos and earning commission. Also you can earn money by referring others to join InboxDollars.
Although the pay per every task is low, you will get continuous opportunities to earn some extra money every day.
If you compare Inboxdollars with Swagbucks, it only offers online rewards you can redeem for gift cards, shopping discounts and electronic coupons. There is no direct cash.
If you really want to earn real cash online through survey jobs then InboxDollars is the best option.
Automatic Bonus for Signing Up – $5
When you sign up, InboxDollars immediately pay $5 to your account. It's one of the few online platforms or cash-back platforms that offer sign-up bonuses which is awesome.
Many Ways to Make Money on InboxDollars
InboxDollars offers different ways to make extra money. If you're ready to make money from online surveys or prefer to earn by reading emails, completing simple tasks then you can find a way to benefit from InboxDollars membership.
InboxDollars Disadvantages
High minimum-payout threshold.
$3 processing fee for redemption
You may not qualify for some surveys.
It takes 2-3 weeks to receive your payment.
How Do You Redeem Your InboxDollars Earnings?
Redeeming your Inboxdollars earnings is very simple. However, there's a downside to InboxDollars, it's that it has a rather high cash out minimum. There is no option to request your first payment until you earn $15. All additional payment withdrawals can be done once you have at least a $10 balance.
After you reach the $15 earnings mark, you can easily cash out with a PayPal, an eGiftCard (i.e. Amazon gift card), Check, Prepaid Visa card, InboxDollars is the brand that pays regularly to its members on-time. However, checks were discontinued as a payment method on August 17, 2021.
InboxDollars Alternatives
In addition to InboxDollars, there are some legitimate survey sites that offer survey jobs to make money
online.
Below are the best alternatives to Inbox Dollars.
Survey Junkie: You will get multiple paid surveys per day. The minimum payout is $10 only.
Pinecone Research: They pay $3 to $5 per survey.
Swagbucks: Get a $5 sign-up bonus and you will find several ways to earn money online. The minimum payout starts at $3.
Vindale Research: You will find genuine surveys that pay up to $50.
InboxDollars FAQs
Below are frequently asked questions about InboxDollars:
How much money can a member make with InboxDollars?
The earnings in InboxDollars is based on several factors. Those are, including your demographics, gender, living country, etc. If you qualify for higher-paying survey programs, you can easily reach the $30 payout threshold faster. The long survey you complete will give you better money.
How long does it take to get paid from InboxDollars?
It takes about 2-3 weeks to get your payout from InboxDollars if you are a non-gold member. Once you reach Gold membership, your payouts become faster within a week.
How do I get the most money from InboxDollars?
Make sure you complete your profile tab since your profile details is the key and determines whether you qualify for a survey on the platform or not.
Is InboxDollars a Legitimate Company?
Yes, It's a 100% legitimate survey company. InboxDollars is operated by a well-known market research company, known as Prodege. This is the same company that manages Swagbucks survey site.
Which is better? Swagbucks or InboxDollars?
I personally find Swagbucks is very easy for earning rewards since they offer many opportunities to earn money (over 10 easy ways).
The best part of Swagbucks is, you can request a payout on Swagbucks starting at $3 balance. You can sign up for both legit survey sites to maximize your earning potential which is a great idea.
Is InboxDollars Worth It?
It's All up to you only and depends on what else you could be doing with your time. If you are able to spend at least 1 – 2 hours in a day then you may earn at least $600 – $900 from InboxDollar survey site.
Conclusion on Inboxdollars Scam or Legit
People, brands and companies have been advertising digital get-rich-quick schemes as the internet is very cheap now. However, that's not about to change. Although, there are plenty of legitimate sites and legal ways to make money online.
You would need to find legitimate ways to earn money online after reading many articles and reviews. Keep in mind, in the real world, slow and steady usually wins the race without any doubt.
Make a note that InboxDollars clearly offers genuine offers and some value for realistic, clear-eyed folks who would like to earn a few extra bucks.
I'm sure You can absolutely earn money with InboxDollars. As long as you don't expect Inboxdollars as a quick get-rich scheme, you'll probably make decent income from InboxDollars on a regular basis.